WORLD  PREMIERE  @  SOAS, University  of  London
February 1st, 2018

NL Premiere @ Dutch National Museum of Archaeology


March 29th, 2018

Taq Kasra: Wonder of Architecture is the first-ever documentary film on the world's largest brickwork vault. The palace is a symbol of the Persian Empire in the Sasanian era (224-651 AD), when a major part of Mesopotamia (modern Iraq) was part of Persia [Iran].

Taq Kasra was in serious danger of ISIS attacks in 2015-2016 and this was the main motivation for documentary maker Pejman Akbarzadeh, based in the Netherlands, to travel to Iraq twice and film the arch before it was potentially destroyed.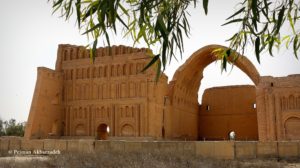 Taq Kasra in late antiquity was a royal Persian residence but since a few centuries ago, in view of geopolitical changes in the Near East, it is located in Iraqi territory, close to the capital city of Baghdad. It was neglected shortly after the Arab invasion of Persia in the 7th century AD but remained a source of inspiration for archaeologists, poets and other travellers.


The film explores the history and architecture of this iconic monument with respected archaeologists and scholars from around the world and portrays the huge impact of war and ideological policies on the identity of this ancient arch.

The following scholars have been interviewed in the film:
(in order of appearance)
Prof. Ed Keall (Former director of Royal Ontario Museum's Near Eastern Department)
Prof. Touraj Daryaee (Director of Center for Persian Studies, University of California)
Dr. Ute Franke (State Museums of Berlin)
Dr. Vesta Sarkhosh-Curtis (British Museum)
Dr. Ali Mozaffari (Australian Research Council, Deakin Univ.)
Dr. Mahmoud Mullakhalaf (Iraqi Ambassador to UNESCO)
Dr. Qais Huseen Rasheed (Head of Iraqi State Board of Antiquities)
Dr. Miroslav Zeman (ProjektyZeman, Prague)
Join the Facebook Page of TAQ KASRA
Tags: Sassanid Persia, Taqi Kisra, Taq-i Kesra, Iwav of Khusrow, Ktesiphon, Persians, Mada'in, Salman Pak, Ctesiphon, Mesopotamia, Iran, Iraq, Irak, Near Eastern civilisation, Persien, Perse, Oud Perzië, Persisches Reich, Perser